HS Baseball schedule change There has been a slight change to the High School Baseball schedule. On Monday, they will play Shattuck at Fuller Park in Woodward at 4:30. On Tuesday, they will only play Kremlin-Hillsdale at home at 4:00.

Reminder - Pre-K Round-Up Friday, March 3rd in Jet at the elementary.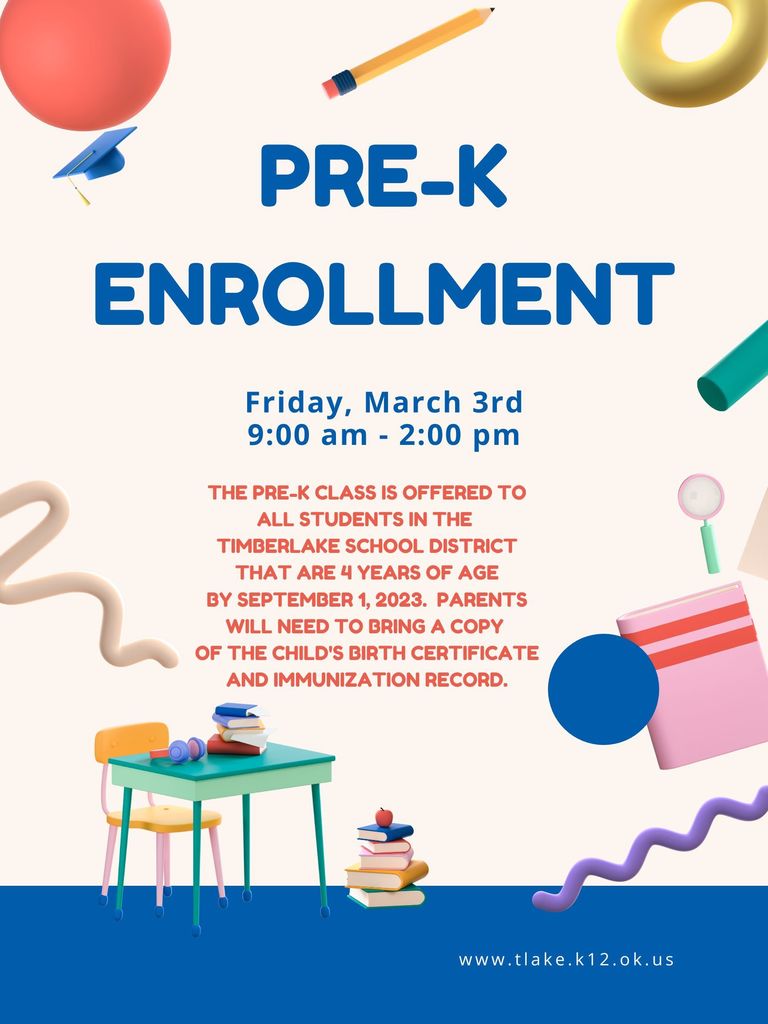 Reminder - Orders for the Dr. Seuss shirt are due tomorrow March 2nd.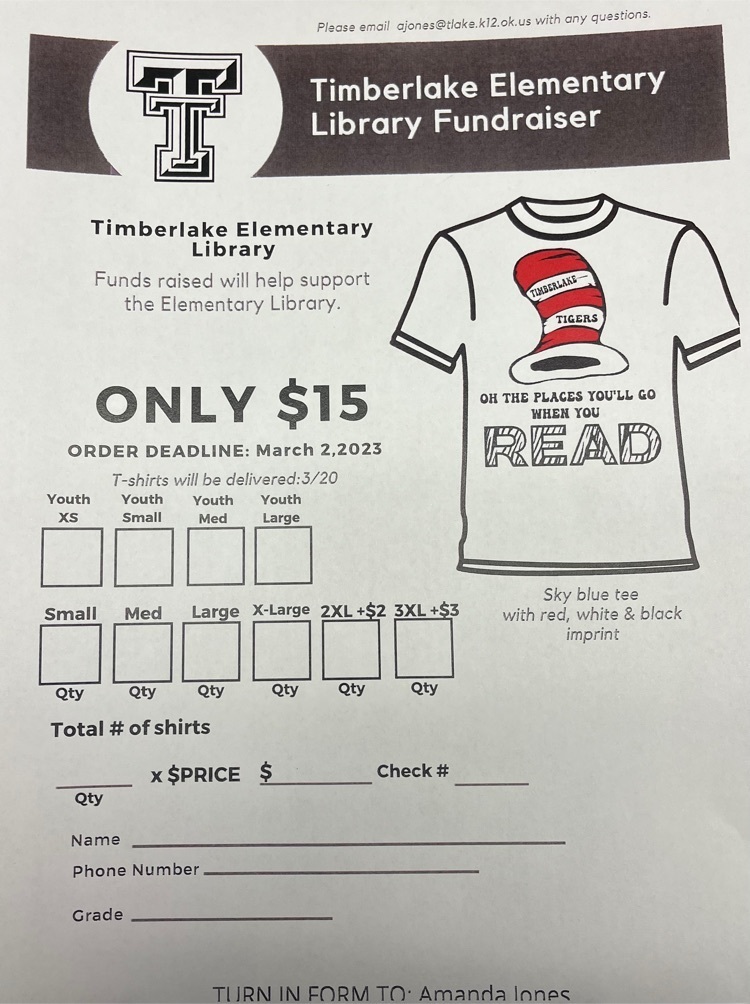 Reminder - Elementary Dr. Seuss week dress up day for Thursday - Wear blue, red, and/or a crazy hat. JH/HS FFA dress up day - City vs Country - dress like a city-folk or a farmer

Reminder - Elementary Dr. Seuss week dress up day for Wednesday - Dress like your favorite zoo animal or wear a zoo shirt. JH/HS FFA dress up day - Crocs w/ socks - wear crazy socks with crocs

Reminder - Elementary Dr. Seuss week dress up day for Tuesday - Wear funky sunglasses or glasses. JH/HS FFA dress up day for Tuesday - USA Day - wear red, white and blue.
February Senior Spotlights!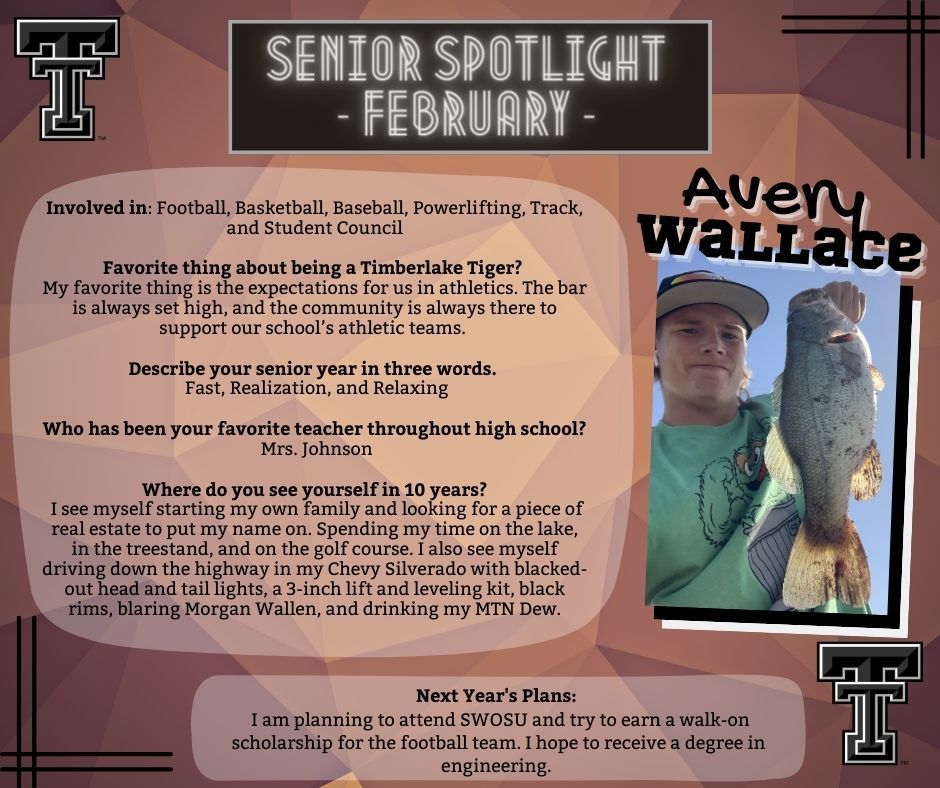 Due to the potential of severe weather today, both storm shelters are unlocked and open to the public if needed.

Reminder - Dr. Seuss week dress up day for Monday - Wear your PJ's.

Elementary library Dr. Seuss shirt fundraiser. Orders are due Thursday, March 2nd.

Reminder - Today is the last day to turn in orders for the softball shirts & hoodies.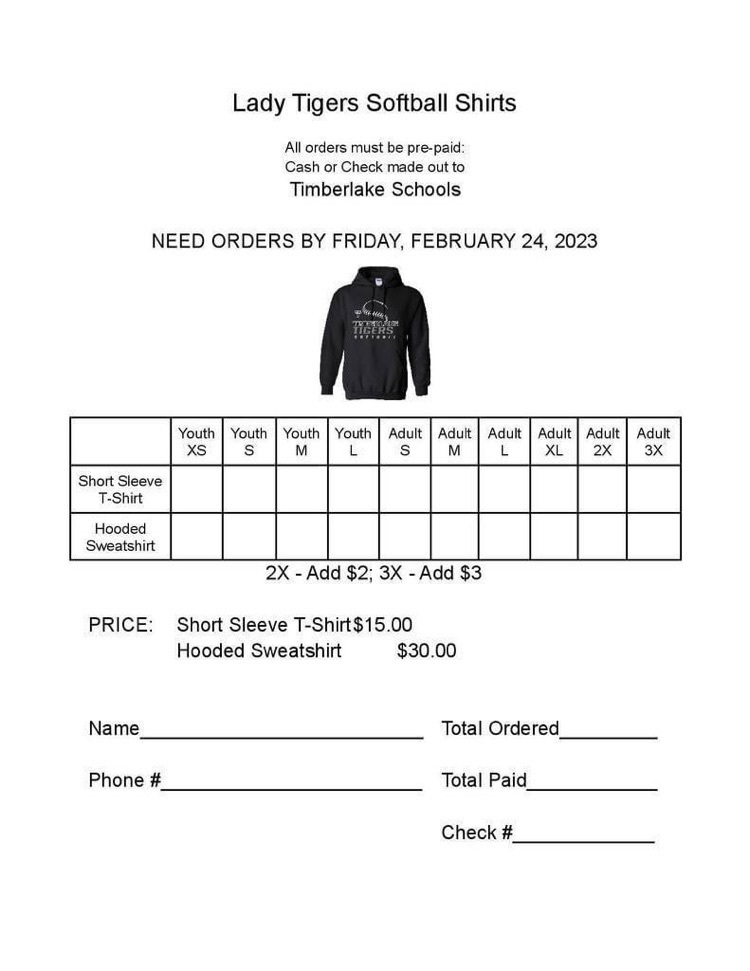 Odds and ends for sale by the junior class: cinnamon-and-sugar pecans for $5, large or medium T-shirts for $15, metal license plates for $20. Contact Laurie Gwinn

The elementary will be celebrating Dr. Seuss week next week Feb. 27th - Mar. 3rd. The list of dress up days is attached.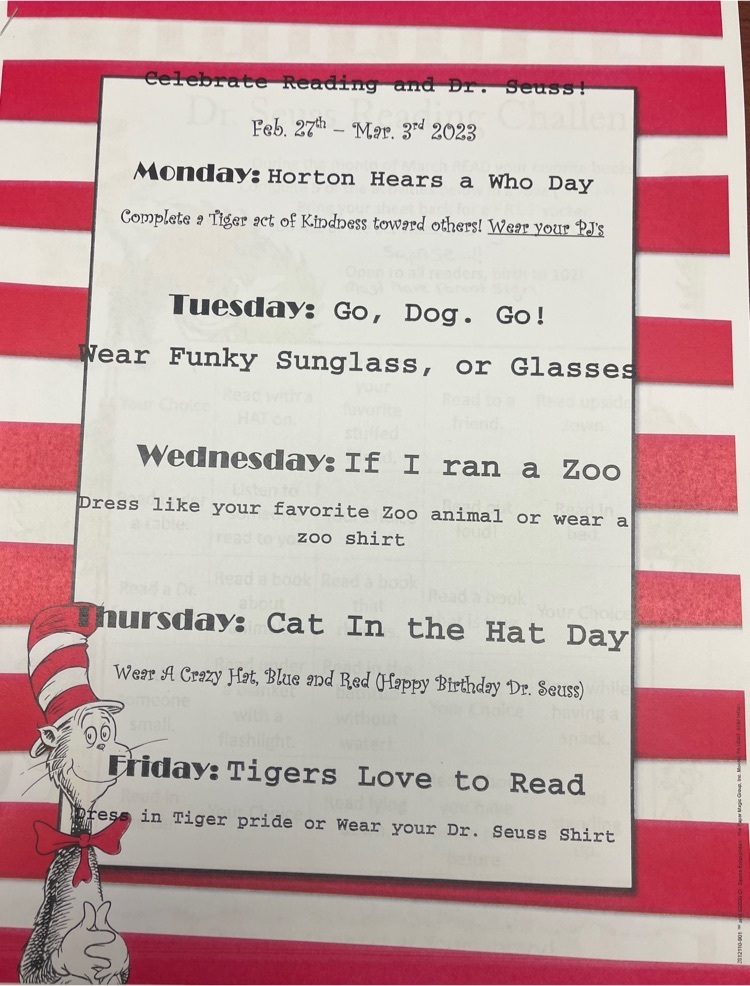 Good luck to the Tigers on Thursday as they travel to Woodward for a 7:30 tip vs Leedey in the 1st round of the Area tournament. The theme for the game will be "zoom meeting, all business up top". Go Tigers!

Softball t-shirt and hoodie order forms are now available and will be sent home with elementary students tomorrow. Orders are due this Friday, February 24th.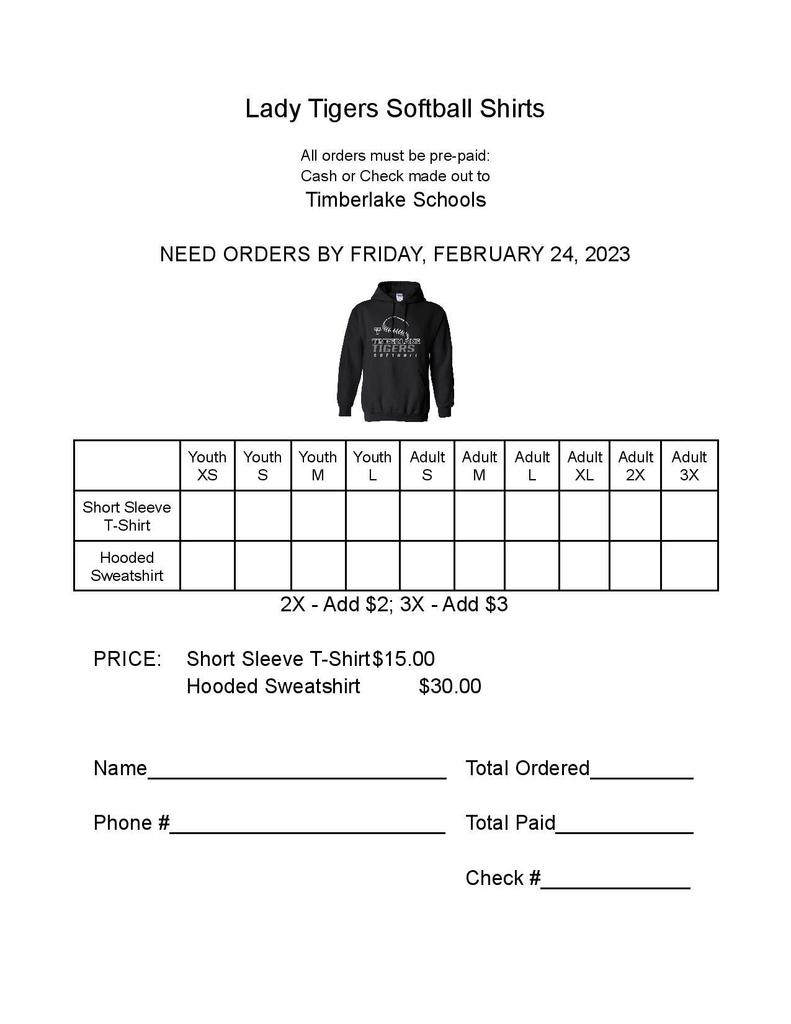 On to State! Congratulations to the JH Academic Team and Mrs. Sanders for competing in the Regional Meet and placing 2nd. By doing so they qualify for the State Meet in April. Good Luck and Go Tigers!

On to Area! The Tigers will travel to Woodward for the 1st round of the Area tournament on Thursday, February 23rd for a 7:30 tip-off. Congratulations!

NWOSU has several openings for virtual tutoring on Thursdays after school. Literacy tutoring will be available both VIRTUALLY and IN PERSON this semester! NWOSU Literacy Center will partner your child with a teacher-candidate majoring in education. This service is provided free of charge. Tutoring will begin the week of February 6 and end the week of April 4 (to be finished before state testing). NWOSU's Spring Break is March 13-17, so no tutoring will take place during that week. Dr. Oswald and Ms. Cotton will be an active part of tutoring, and they will supervise teacher candidates. Contact Dr. Oswald at
jdoswald@nwosu.edu
or 580-327-8451 with any questions!
https://docs.google.com/forms/d/e/1FAIpQLSdyFs6joB3Wp42BMEmLa-6aoK2jA8nTLEWeaZ19Rlm-To-h-Q/viewform

There will be a pep bus going to the boys basketball game tomorrow night at Fairview. Students in grades 7-12 who have not had discipline issues are eligible to ride. The bus will leave at 6:00pm from the high school. Before loading, students will need to show that they have purchased a ticket online or have $10 cash to buy a ticket at the door. Students will return to the high school between 10:00pm and 10:30pm. Mr. Dayton will have a sign up sheet on the office window tomorrow and will make an announcement as well. If parents or students have questions, please call the office. The theme for the game will be "Round up the Raiders" so dress like cowboys!