Order of events for the track meet at Cherokee on Tuesday, May 3rd.

Seniors have received their picture order forms for graduation pictures. Pictures will be taken on May 12 at 10:00 am after the Awards Assembly. You can place your order online at
www.hortonstudios.com
Click Schools and Events--Click School Name--Prepay and select packages.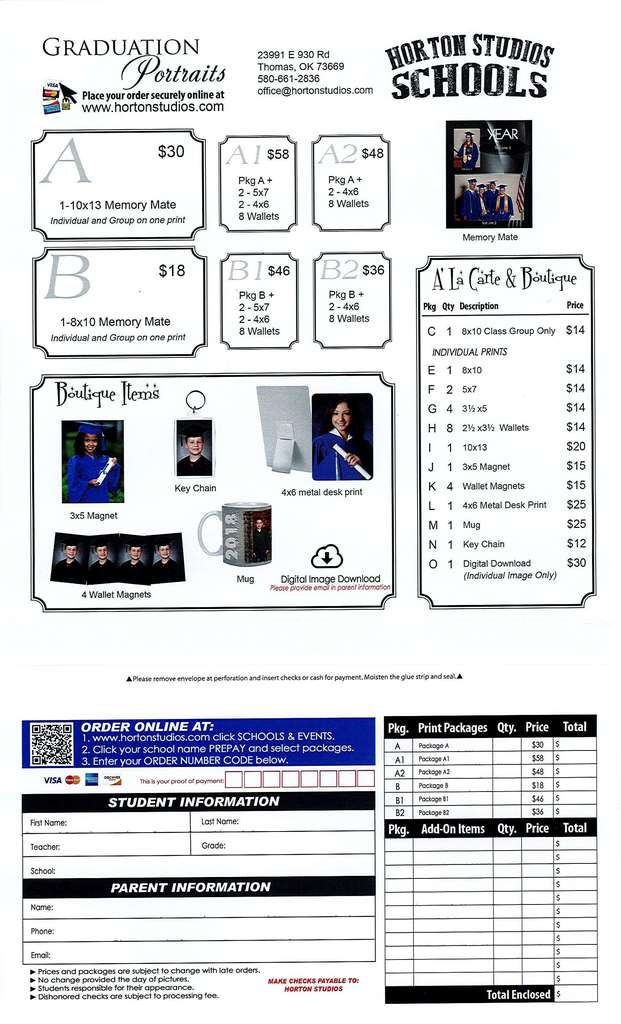 We are trying something new this year. The theme for the elementary track meet on Monday, May 2nd, will be red, white and blue! On Tuesday, May 3rd, 1st - 6th graders are being asked to wear their new 2021-2022 gray Timberlake Elementary shirts to the Cherokee track meet.

Here is the bracket for the regional baseball tournament this weekend in Leedey. Timberlake will play Leedey at 11:00 am on Thursday. Go Tigers!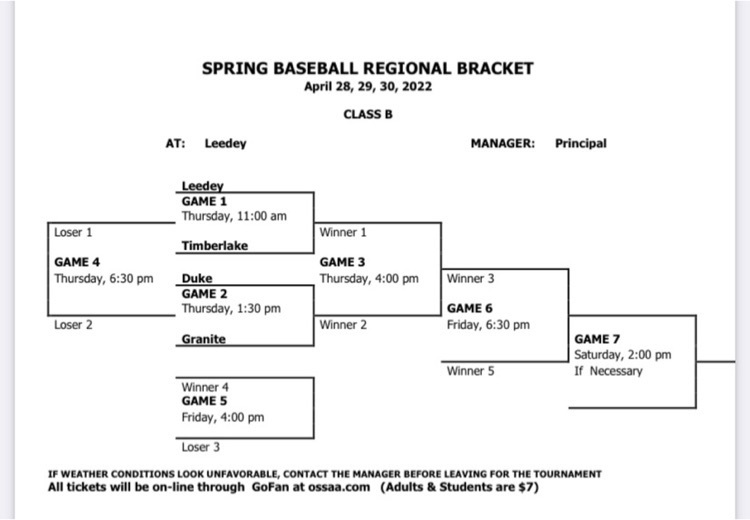 HS baseball will play at Shattuck today at 4:30.

Congratulations to 2nd grader Violet Rennicke for winning a PlayStation gaming console, headset, controller and gift card from the elementary school's School Store fundraiser. Each child who participated in the fundraiser was entered into a nation wide drawing and Violet was chosen as the winner. Mr. Hickman awarded Violet with her winnings during the Monday morning meeting.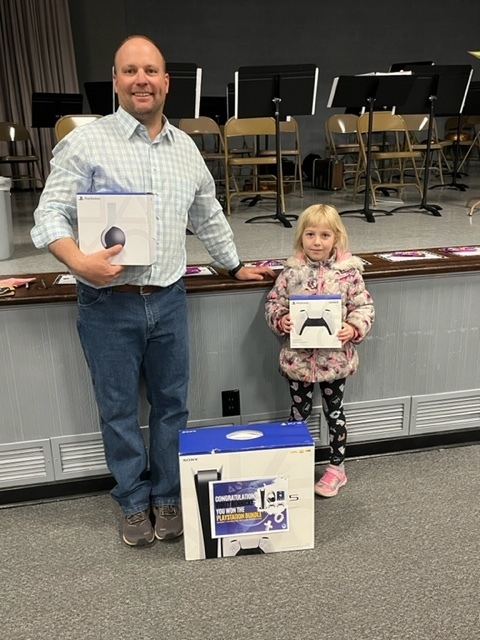 You are invited to come watch the 5-12 band at their Spring Concert tomorrow, Tuesday, April 26th at 6:30 pm in the high school auditorium.

Timberlake baseball has a new scoreboard! Thank you to the following sponsors: Oklahoma Rural Rehabilitation Corporation, Alfalfa Electric Company, Sidwell Insurance , and Lowes. We greatly appreciate your generosity.

Congratulations to our HS baseball team on being District Champions. Regional assignments will be released on Monday.

Please join us for the JH/HS talent show on Wednesday, April 27th at 6:30 in the HS auditorium.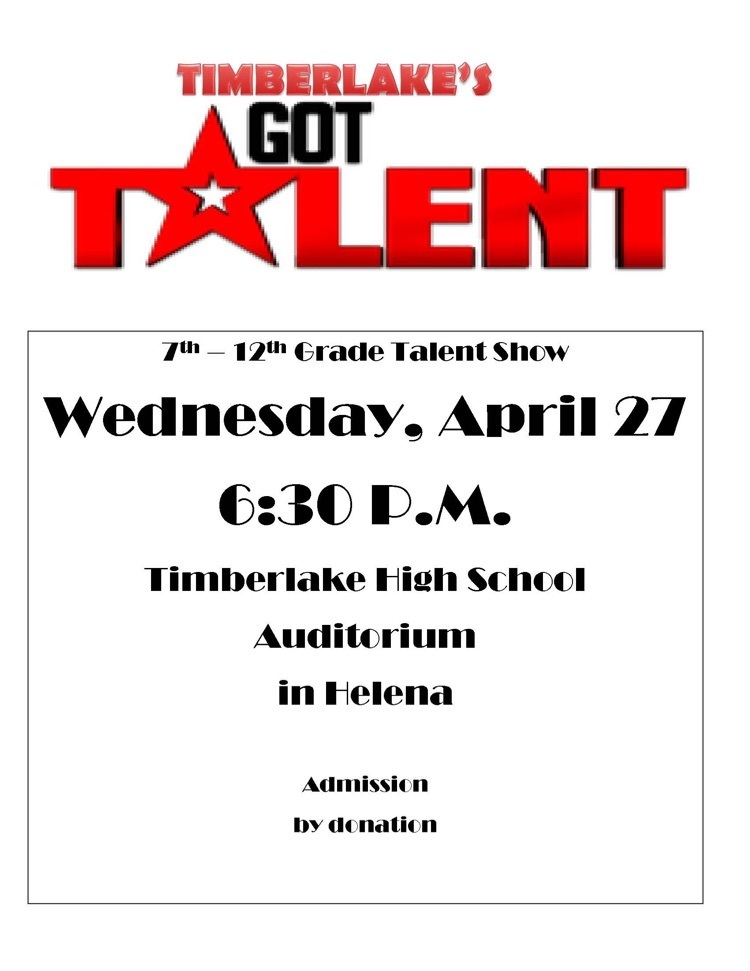 Congratulations to our HS baseball team on winning their first 2 games in the district tournament today. They will play Waynoka again tomorrow at 1:00 pm and there could be an If game at 3:00 pm if necessary.

JH baseball has been cancelled today.

Here are the elementary state testing dates. If your child is not present on the day of their test they will be pulled when they return to make up the test.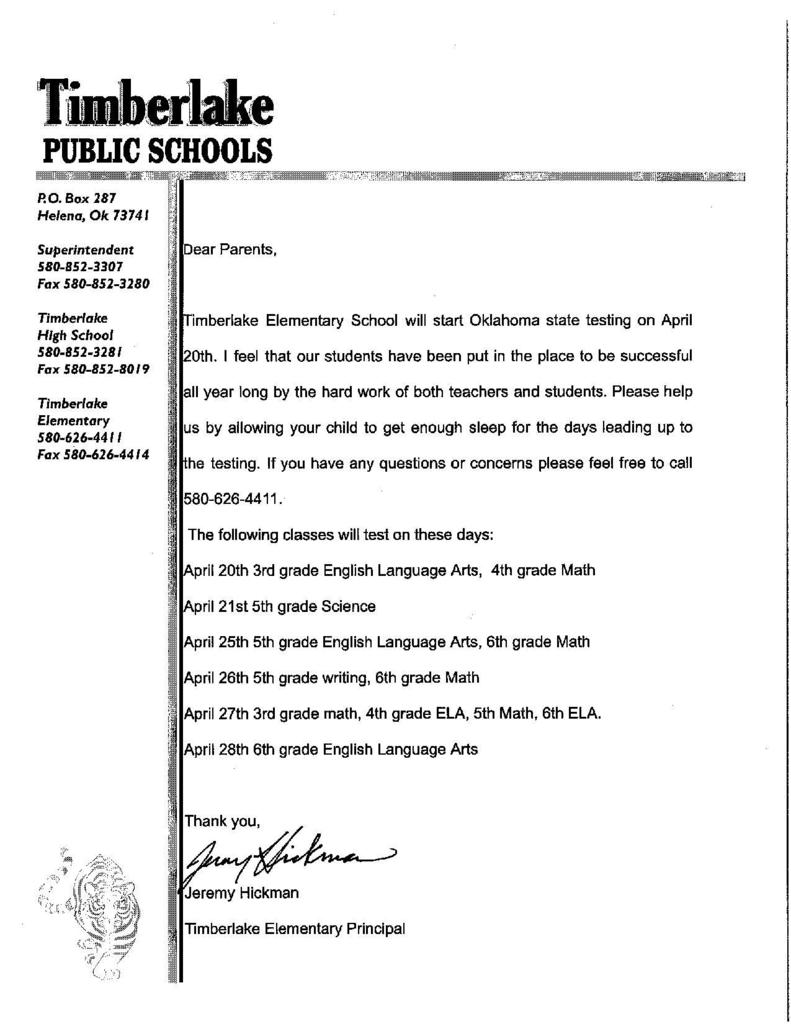 5/6th grade track will NOT be attending the DCLA meet on Wednesday, April 20th. They will be attending the Pond Creek meet on Friday, April 29th.

District Baseball Tournament at Timberlake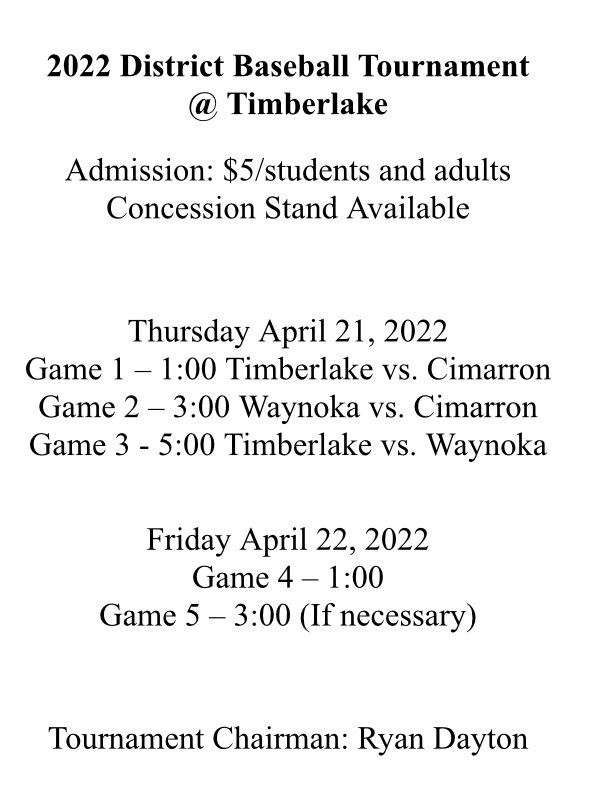 Come help recognize all of the hard work by our FCCLA members this year.

The baseball boys have had a great week! If you're free tomorrow evening come out and support these guys! It would mean a lot to us! It's been a decade since our last appearance in the finals of this tournament! Tomorrow's Merrifield Tournament Schedule@ David Allen Memorial Ballpark: 10:00 Pond Creek-Hunter v Fairview 12:15 Watonga v Chisholm 2:30 Kremlin v OBA 4:45 Garber v Drummond 7:00 Timberlake v Pioneer

First Responder Supply Drive Timberlake High School wants to give back to those who risk their lives to keep our communities safe.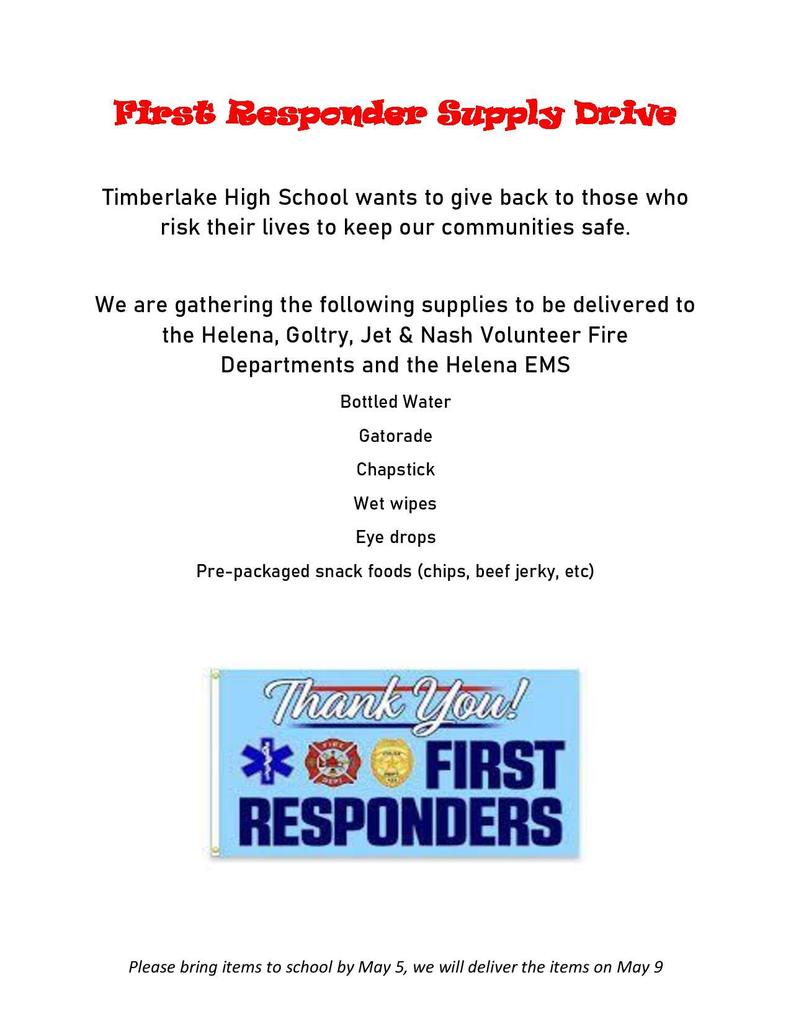 The junior high baseball games at Medford have been rescheduled for next Tuesday. Details are being worked out on game times and will be shared once worked out.

HS baseball is in the Merrifield tournament this week. Here is the schedule of the games. Go Tigers!