JH softball game @ Drummond today has been cancelled.

Baseball games for today have been canceled due to rain.

The Cherokee Strip baseball tournament bracket has been released. It is available on the live feed and documents on the school website and app.

The junior high track meet scheduled for Monday, March 21st at Covington has been rescheduled for Thursday, March 24th. There are other conflicts that day so we will look over schedules and share plans for making up that meet early this week.

Congratulations to the Class C Powerlifting State Champions!

JH Slowpitch on March 21st has been cancelled. We have added 2 games on March 24th at Hillsdale Christian at 4:00. On April 5th we will play 2 games vs Hillsdale Christian in Jet starting at 4:30. Here is an updated schedule that reflects those changes.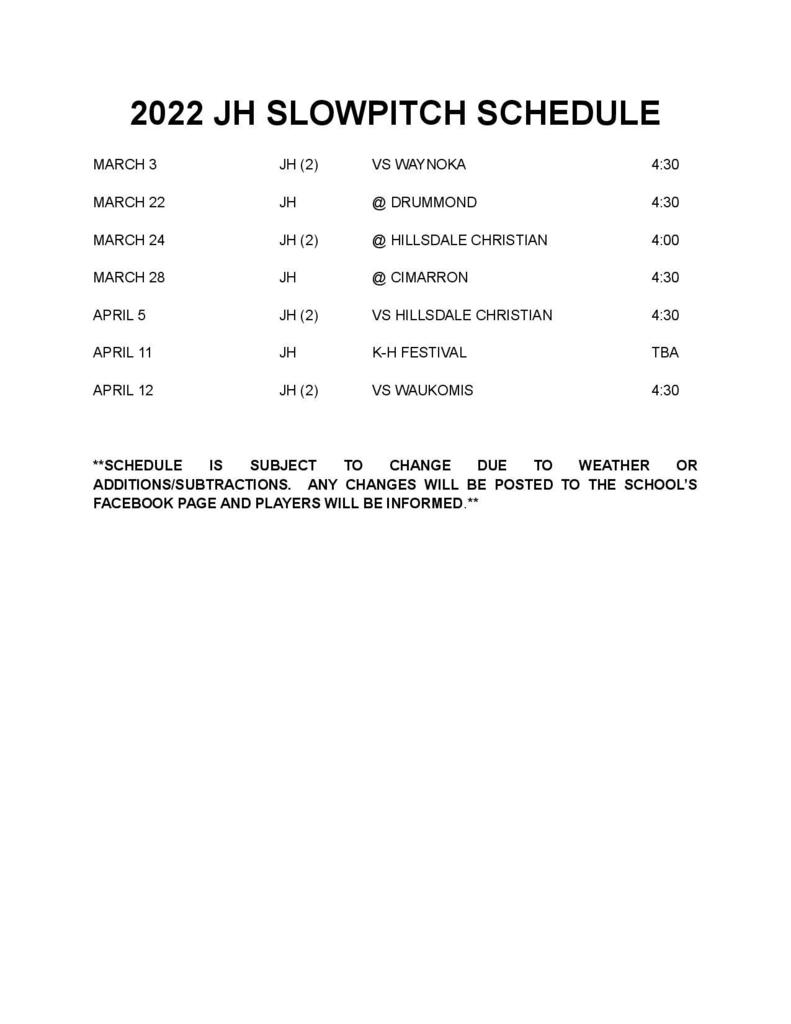 Reminder: HS baseball boys will take on Mountain View-Gotebo tomorrow at the Bricktown Ballpark in OKC at 4:00 pm. Admission is free and their concessions are cashless. Pioneer HS Baseball Festival Friday, March 18th AT Hennessey 10:00 T-Lake vs Stonewall 12:15 T-Lake vs Hydro

Tonight's baseball games at Waynoka are canceled. The HS will play the second game at Pond Creek following the 4:00 game between Medford and PCH.

It's Opening Day for both baseball and softball today. HS Baseball will play in Helena @ 2:30 vs Kremlin-Hillsdale and @ 6:30 vs Shattuck. JH softball will start @ 4:30 in Jet vs Waynoka and play 2 - 5 inning games. Go Tigers!

We will need to finalize our order with Jostens for the yearbook to be delivered this fall for the 2021/2022 school year. If you would like to GUARANTEE one for your student, please go to
http://jostensyearbooks.com?ref=A06799100
and order online before April 15th if you would like personalization. Final orders will be due the last day of school on May 12. We won't be ordering many, if any extras. So don't delay. Yearbooks are $35. You may also order by getting an order form from Mrs. Crissup.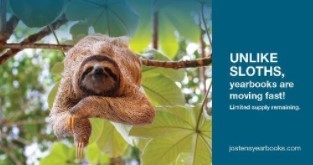 Thank you Mrs. Jones for organizing this trip for our students who reached 75 AR points. Keep reading students!

Elementary and 7-12th Grade Spring Picture Day is Monday, March 7. Spring Casuals will be taken at the elementary and proofs will be sent back to the school to order online. Parents will also be able to use the spring proof envelope to order with check or cash as payment. All spring sports will be taken as well as the Oklahoma Honor Society group photo.

The elementary school is celebrating Dr. Seuss this week. Here is a list of the dress up days.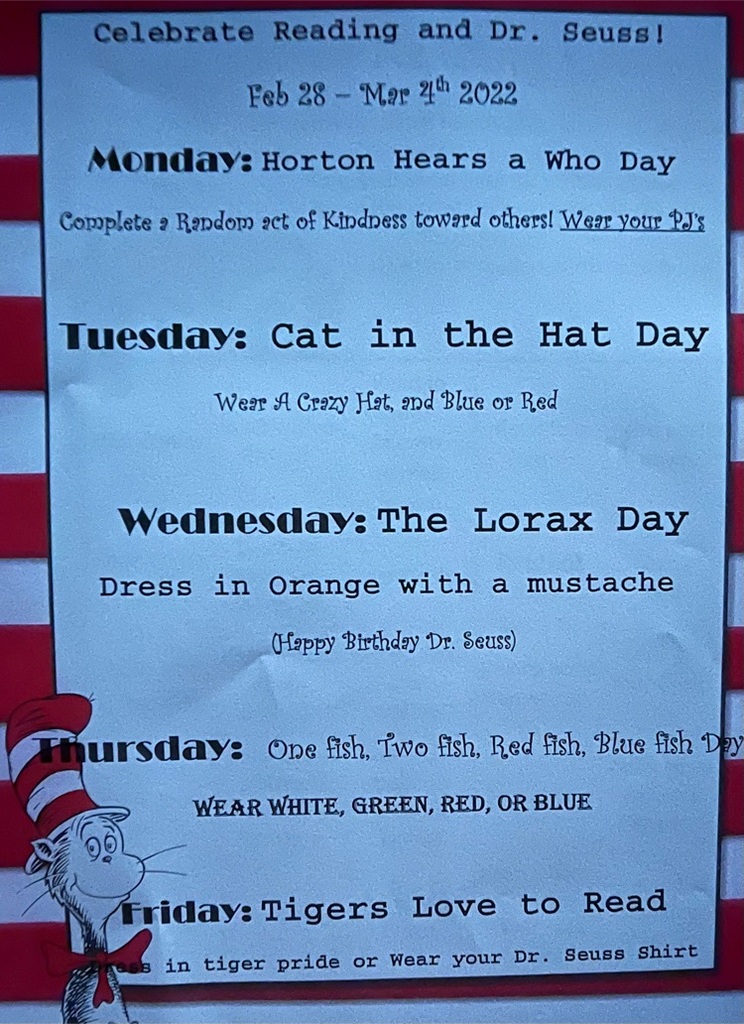 There will be a honk out at 12:00 pm on Monday in front of the gym to cheer our boys out of town. Pep bus will be available for 7-12th graders who would like to attend the game. Students will need to have $10 or proof of digital ticket to attend the game. Students who wish to attend the game can be checked out without being counted absent. Normal checkout procedures will apply.

Congratulations to the Tigers on advancing to the second round of Area today. They will face Goodwell on Monday, February 28th at 3:00 pm at Woodward High School. Wear your best safari gear and go watch the "rumble in the jungle" between the Eagles and Tigers.

Congratulations to the 8th and 9th grade Academic Team on placing 3rd at Regionals today and qualifying for State!

Our game will be streamed on Skordle and you can also find it on 101.1. The Road to the Big House moves on Friday night as we Shift to Class B for the Areas from Woodward High School! We will Kick things off with the Boys Consolation Semifinals at 5:30pm pregame at 5:15pm as the Timberlake Tigers square off against the #15 Tyrone Bobcats Followed by the Girls as the #10 Okeene Lady Whippets Battle the #20 Tyrone Lady Bobcats at 7:00pm on K101 (101.1 FM) & K101online.com. Okeene Public Schools Okeene Whippets Basketball Tyrone Public Schools Timberlake Schools


The OSSAA has moved Area basketball games back to Saturday, Monday, Tuesday. The boys will now play Tyrone on Saturday at 5:30 at Woodward HS. Updated brackets will be posted as soon as the OSSAA makes them available.

Timberlake Schools is canceling classes for the day due to black ice that has developed on highways within the district.